Please join Melody (pebbles7195) at Digishop Talk for our First Annual Birthday Bash Chat!

There are lots of prizes and goodies!! We will be at DST for an hour and then move it to the Moo Two Designs Chatroom! If you continue the chat with us at Moo Two you will get additional prizes.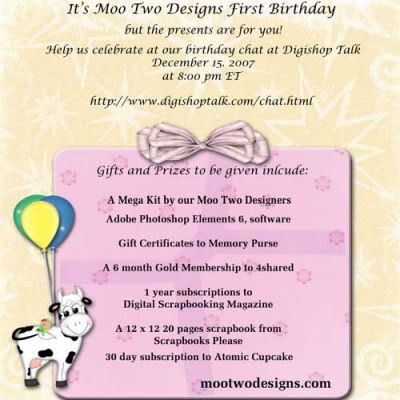 In honor of our First Birthday Bash we are having a fabulous 24 Hour Almost Everything for $1 Sale! Stop by the store on the 15th of December to check out our awesome designers! But remember this sale excludes Moo Two Mega kits, CD's, Grab Bags, & Charity kits.




BUT WAIT … we are also having a "Show Your Support Blinkie Game". All you have to do is grab one of the blinkies from our forum and show your support to Moo Two Designs!! Simply post one of the blinkies in your signature block on the different sites that you visit. If you are "caught" with a support blinkie you will win a gift! Starts December 14th - December 16th.

And don't forget we still have our Secret Santa Sale going on until December 18th as well.

For more information on any of these events, just stop by the Birthday Bash Forum at Moo Two Designs. Hope you will join us in celebrating out First Birthday! We can't wait to see you!

Thank you for stopping by and visiting us today, here's a little gift for you! A quickpage from Nancy of Scrappy Cats Designs. Please leave some love if you download it. Thank you!
LINK REMOVED