Welcome to the Moo Two Designs celebration of Mardi Gras!!!

Get ready to sweep those winter blues away!

Mardi Gras is the final day of carnival, which begins on Twelfth Night, Twelve Days after Christmas. Carnival is not just celebrated only in New Orleans, but in several places around the world. Some of these places include Brazil, Italy, Mexico and Spain. The celebration has religious ties to the Catholic Faith and the beginning of Lent. The first day of Lent is called Ash Wednesday and it is during this time the parishioner must prepare for the coming of Easter. At one time this would involve fasting and prayer, and to some extent this is still true as things are sacrificed for Lent. The Lenten season lasts for about 6 weeks, so the basic thought is have fun while we can. The phrase Mardi Gras literally translates as "Fat Tuesday".

Mardi Gras is also celebrated in many different places and has many different names, but we are going to "pass a good time, N'Awlins" style. We have several treats in stored for you!

- A blog parade with throws (freebies) from our designers.

- Come to the masked ball and dress your avatar in the forum and win a prize!

- A Mardi Gras Chat with Melody at 9pm EST in the Moo Two Chat Room

We also have a fabulous Lagniappe Sale! Check it out here.

So grab your bead bag and get ready to shout, "Throw me somethin' mister!"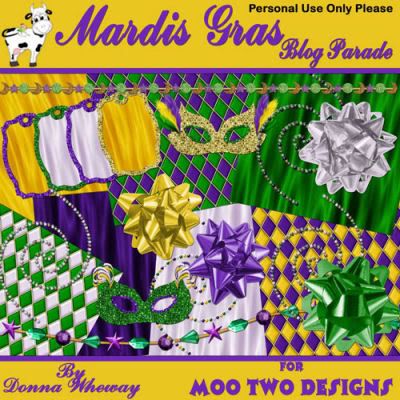 Here is your first prize! You can download it here.

The next stop on the Mardi Gras Blog Parade is Terrell S blog.